Special Offer
A Special Summer 2012 Thank You To All Customers Of SafeColonCleanse.com
As a big thank you for your support over the years,  I'm offering my complete 330 page ecourse on Cleansing at a HUGE discount  plus 3 bonus ebooks  for free.   Take me up on this offer and you get all of the following (click the links for more details).    This offer is open for the next 10 days (until 21 June 2012), so take advantage soon.   As always, if you decide you want a refund within 60 days you'll absolutely get it.
Thanks again,
Mark Ament, founder Safecoloncleanse.com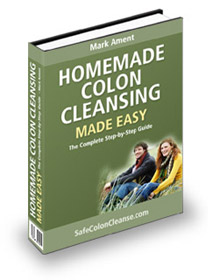 Lifetime Guide to Colon Health
A comprehensive guide to colon health.  In this 330 page eCourse you'll learn everything you'd ever need to know in order to keep your colon healthy for the rest of your life. We've made the guide practical and accessible enough for anyone to use.
Normally sells for $19.97 –  Special Thank You Price = $9

A Complete Introduction To Raw Vegetarian Cuisine   
Learn how to thrive on raw vegetarian food in this comprehensive ebook.  Imagine eating rich, great tasting food and actually getting healthier and healthier everyday!  That's really possible when you have the right information about living a raw food lifestyle Learn to make beautiful, health promoting dishes like raw chocolate cake, raw mini pizzas, raw.
Normally sells for $15.97 – Special Thank You Price = FREE

The World's Ultimate Exercise
Discover  the exercise that N.A.S.A calls "68% more efficient than jogging" and uses in its astronaut training program.   Imagine you could exercise for just 10 minutes a day and get similar benefits to 1 hour of vigorous running.   Low impact and lots of fun.
Normally sells for $8.97 –  Special Thank You Price = FREE

Find out how to avoid the most dangerous chemicals in cosmetics, foods and clothes in this Ebook. The unfortunate truth is that we live in a world with more chemicals that ever.  Over 10 million distinct chemical compounds have been produced in the last 50 years.  Approximately 2850 chemicals are added to foods everyday.
Normally sells for $6.97 – Special Thank You Price = FREE