The Seven Simplest Natural Constipation Remedies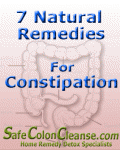 How to get relief from constipation quickly without taking any medicines or buying any special products.
It's estimated that 100 million people in the United States suffer from constipation and that these people spend $700 million on products to relieve constipation each year. To us it seems a shame, when constipation is easily avoided through proper diet and cleansing.
In an ideal setting, you should have a bowel movement 30 minutes to 1 1/2 hours after every meal.  That doesn't mean the food you just ate is being released after 30 minutes.  Actually it's food from the last meals that gets released to make way for the food you just have eaten.
Experts agree that the minimum number  of bowel movements most people should have daily is 2-3.
If you're not, you're probably suffering from some level of constipation and you may want to do something to get the bowel moving again.
Here at SafeColonCleanse.com we understand that not everyone is ready to try a colon cleanse recipe or program.   Some people just want some quick relief solutions to occasional or even chronic constipation.
That's why we've put together this special report: "7 Natural Ways To End Constipation"
This report is full of useable information that will show you how 7 easy things you can do to get your bowel moving again.  The instructions are clear and the remedies are safe.  And using this information you won't need to rely on medicines again.
In this report we'll show you:
The absolute simplest constipation remedy ever
How to use sea salt and water to stimulate the bowel
The 10 best laxative foods
The main ingredient in most over the counter constipation remedies and how to get it for a fraction of the price
How to make cleansing teas
2 recipes for traditional herbal constipation remedies that have stood the test of time
The easiest non-diet way to keep from getting constipated in the first place…
Using this infomation:
You will know exactly how to easily make your own remedies
You can be sure to use  only the purest and best quality ingredients
You can get real relief from the symptoms of constipation
You can have all this helpful info in next 2 minutes! Download this special report straight to your computer and get started today.
We offer a 60 day money back guarantee.   So there's no risk at all to you.

P.S.   This report comes with full e-mail support from  the SafeColonCleanse.com team.   If you have any question, you can e-mail us and expect a personal response within 24 hours.