The Optimum Colon Cleansing Diet Explained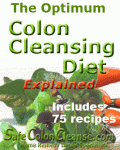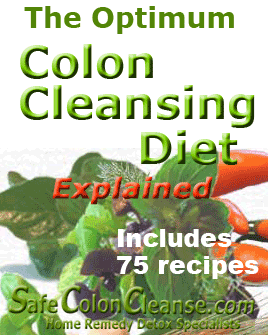 Of all the major types of colon cleansing, the colon cleansing diet is the most simple and, in the long term, the most effective.   Experts in the natural health field agree that the best long term strategy for colon cleansing is to make positive changes to your  diet. That's because the colon naturally cleanses itself as long as you give it the foods that it needs to work properly.
Nothing could be more simple – Eat foods that help your digestion and don't eat ones that hurt it.
In general terms the foods that the colon most needs are fresh fruits, vegetables, nuts and seeds that are high in water content and high in dietary fiber.    Fiber, which is only found in plant foods, has long been known to be a key in perfect colon health.
But don't be fooled by the simplicity of this cleansing approach.

We've seen many major health breakthroughs come for ourselves and friends in following the optimum colon cleansing diet.
And because of that, we've been inspired to make this diet easier to follow than ever.   We've put all the details and over 75 recipes in our  ebook: "The Optimum Colon Cleansing Diet Explained."
Using this book you'll know exactly what foods to eat for great cleansing results.
This ebook  is full of useable information that will teach you everything you need to know about the cleansing diet and show you how to make 75 colon healthy recipes that taste great.
In the book you'll learn:
What the top colon clogging foods are and how to easily avoid them
Two surprising varieties of fruits and vegetables that slow the bowel down
The best foods for cleansing
How to stock your refrigerator and pantry for a cleansing diet
The top high fiber foods that you should eat regularly
How to design a weekly colon healthy meal plan…   …and more.
Using this information you can either add some colon cleansing foods to your current diet or transform it completely by going on the optimum colon cleansing diet for 7-30 days.
Either way, you'll have all the information you need.
We've made it especially easy for you, by including a full range of colon healthy recipes including:
14 detoxing and rejuvenating juices and drinks
6 superfood smoothies
9 energy packed breakfast meals
4 fermented foods to help you get positive bacteria in your system
12 soups and stews (raw and cooked versions)
24 specialty salads and dressings
11 savory main dishes
12 guilt free desserts
The great thing about this diet is that you never need to go hungry or go without eating.   You can eat as much  of these colon healthy foods as you like – even when you eat out.
We get lots of emails from people who are excited about the results they get.  Here are just a few:
"On your diet, I felt like I was a phoenix rising from the ashes as a beautiful new me! I know how I used to believe that I just was never going to look good and that I ought to "accept" myself the way I was – I never dreamed I could accomplish such amazing physical changes as I did". -Victoria
"Hi, my wife and I have what we consider radical changes. I have lost 33 pounds and she has lost 22 pounds in 5 months and we are only a few pounds from our ideal weight now. We are 100 percent on this diet and that is what did it.' –Bob DietzI
"… the change was immediate! My sinuses began to drain. There was steady lessening of pressure in my head. Headaches ceased. Sleep finally came easily, and I awoke refreshed each morning, instead of feeling drugged. I could now breathe freely and didn't have to shut myself in an air-conditioned room during springtime or battle illness every winter." –John T.
There's no need to wait.  The sooner you learn this simple approach to cleansing,  the faster you'll feel healthier and more vibrant.
Download this great information and the 75 recipes to your computer in the next 2 minutes! and get started today.
We ffer a 60 day money back guarantee on all our books.  So there's no risk at all to you.
P.S.   This ebook comes with full support from the Safe Colon Cleanse.com team.  If you have any questions, you can e-mail us and expect a personal response within 24 hours.